Maybank SCAM
Received this email today… (click to enlarge)
And the sender of the mail was…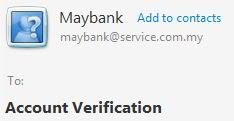 IMMEDIATLY, I knew this is a scam.
How I know?
1) It got filtered into my junk mail folder.
2) The domain of the sender, service.com.my . If it is really from maybank, it should've been from maybank2u.com.my or something.
3) It says to login to maybank online account, AND THEN login to another website. Obviously a scam to steal my password.
4) Last but not least, I do not have a maybank account. Super Lol~~~
---
An advice for everyone, whenever you received this kind of mail, DO NOT stupidly follow instructions. This applies for whatever account you have, can it be banking, or hotmail (common seen too), or even neopets… = =+