I've been experiencing auto-reboot recently again. Due to overheat I guess.
It's been half a year since I last clean my laptop fan.
Normal users should clean their fan once a year. But for power users, you may need to clean them more frequently, like twice a year. (like me :S)
DISCLAIMER: If you really wants to disassemble your laptop, DO AT YOUR OWN RISK! I do not, and will not, bear any responsibility of you messing up your own laptop just because you've been reading my guide. This is just a basic guideline for experienced users with hardware knowledge. It is advised to send your set to proper technician if you do not feel confident, or do not wish to take the risk. Also, note that opening your laptop case WILL VOID YOUR WARRANTY! (Although it doesn't really matter, Acer's after-sales service sucks anyway.)
DISCLAIMER 2: This post is more than 2 years old. Unfortunately, my laptop has long gone, and I am not an Acer technician. Follow this guide at your own risk, and note that I may not be able to answer most of you questions now as I can't really recall much details anymore. Sorry.
Ok here we go…
---
First of all, these are the tools you need:
– A small plus (+) sign screwdriver, but not too small. About the size of the screws under your laptop. Preferably magnetic.
– A small minus (-) sign screwdriver, about the size of above plus size screwdriver. Useful for prying open some casings.
– A really small minus (-) sign screwdriver. Useful for opening small plugs.
These are the tools I used this time. (With my Nokia N70 beside for size comparison)
Before you start, shut down your laptop, take out the battery and let it cool down for a while if you've been running it for some time. It will be dangerous to operate a hot laptop.
Flip to the bottom of the laptop, and take out all the screws as shown.

Click to see enlarged picture
Next, open the 3 panels to expose the Harddisc, RAM, and WiFi card. Take out the 2 side cover of the LCD as well.
Take out more screws under it as shown.

Click to see enlarged picture
Take out the harddisc and RAM as you normally would. Slide the DVD-drive out from the inside. Take out the PCI dummy if you have it. Remember how they connect the WiFi card. It's white on top and black below. It is advised to take a picture before pulling the plug, so that you can remember how to put them back when you're done.
Take out the WiFi card when you're done. Now, flip the laptop, and carefully open the LCD screen. Since the bottom are unscrewed, you may need to hold the sides of the top cover to avoid breaking the top casing, specifically left side (right side have 3 screws beneath, you can worry less.)
Next, carefully pry open the speaker panel.
Once you're done, you may slot out the keyboard, to reveal the underneath. Take out more screws, and on top of that, plugs. Use your very small sized minus sign screwdriver to open up small plugs before pulling it out.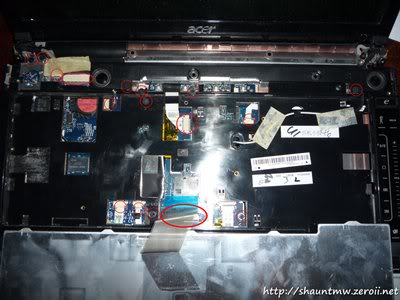 Click to see enlarged picture
After all the screws and plugs, take out the speaker and quick-launch board. Time to remove the LCD. Take out 3 more screws under the speaker board, and carefully pull out the black and white wire from below. (I forgot to take a picture, so I will just use back the previous ones.)

Click to see enlarged picture
Take off the LCD and put it aside. Carefully pry open the top casing to reveal the motherboard underneath. This is going to end soon. Some little more screws and plugs.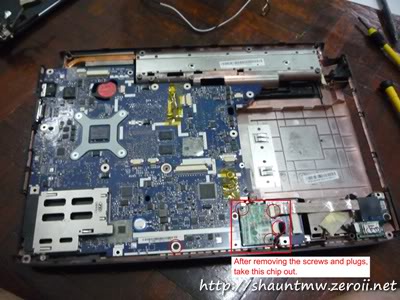 Click to see enlarged picture
Carefully slide out the motherboard. Flip it over. You've finally reached the fan! Take out more screws.

Click to see enlarged picture
Flip over the fan, and clean the layer of dust blocking the ventilation.
It is not necessary to clean the dust in the fan itself, although you may do so if you wish. I don't do it, since it involve much much smaller screws, and it requires a lot more concentration and proper tools screwing back in.
When you're done, you generally had done this to your laptop.
Alright, you can start to read this guide in reverse. And wish you good luck. =)
---
Any questions, just leave me a comment, I will try to answer them if I can. But do not expect too much from me, I am not Acer technician.